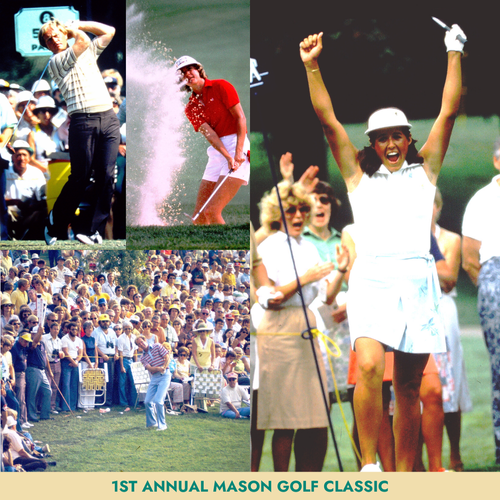 For Immediate Release
Media Contact: Cate Becker
cbecker@masongrizzly.com
Mason, OH – The Grizzly Golf and Social Lodge announces the first annual Mason Golf Classic benefiting the Mason Food Pantry on Saturday, July 2, 2022 – Part of the 50th Anniversary Celebration Program.
The Grizzly golf course turns 50th this year and to honor this incredible anniversary, we're inviting golfers from around the region to walk in the path of legends and compete to win! The tournament will be held at The Grizzly Golf and Social Lodge, located in Mason, OH. The individual stroke play tournament includes Mens, Womens, Juniors, and Seniors divisions and golfers will be flighted based on GHIN handicap.
Fees for entry range from $65 -$100 which include greens fees, cart fee, lunch, range balls, gifts, and awards. Registration is currently open and the deadline to apply is June 24th at midnight.
The golf tournament is part of the 50th Anniversary Program and will establish an annual event and campaign to raise funds, promote, and support non-profit initiatives in the City of Mason.
"The Mason Golf Classic will become a fun and important annual event to support local organizations in Mason," says PGA Head Professional Andy Horn. "This year, the event will benefit the Mason Food Pantry – an organization in our community that provides food, healthcare, products, and more to individuals and families who have come into financial hardship and need assistance."
The 50th Anniversary Mason Golf Classic is presented by the Woods Agency and generously supported by the following sponsors: Benjamin Best Freight, ECO Development, JK Excavating & Utilities, Mason Athletic Alumni Association, Mason Basketball, McCabe Lumber, NixCo Plumbing Inc., Olson & Wilson Private Capital, Recreation Management Services, RedKey Express, R.E. Middleton Construction, Sonder Brewing, and ZIPS Cleaners.
To schedule an exclusive with our PGA Head Pro Andy Horn about the event, please contact Cate Becker.
About the Mason Food Pantry
The Mission of the Mason Good Pantry is to provide basic food and health care items on a temporary basis to those in need. They serve as an interim support facility rather than a long-term solution. Their services are provided in a respectful, dignified, and cheerful manner to all who knock on their door. The Mason Food Pantry does not discriminate based on race, religion, color, national origin, sex, age, or disability.
About The Grizzly
Originally designed by Jack Nicklaus, Desmond Muirhead, and Jay Moorish, The Grizzly is an 18-hole championship course is a par 71 and plays a maximum of 6,474 yards. Founded in 1972, The Grizzly has hosted many of the major professional tours in the United States, including the PGA Tour, LPGA Tour Championship, Kroger Senior Classic – Senior PGA Tour, and LPGA Futures Tour. The golf complex also features a 4-hole Academy Course, driving range, 11,000 sq ft. practice green, award-winning ProShop, The Great 18 Bar & Grill, The Lodge, and two all-weather event shelters. In 2022, the course rebranded as The Grizzly Golf and Social Lodge for the 50th Anniversary.
About RMS
Founded in 2006, Recreation Management Services is a woman-owned and operated Golf Management Company. RMS provides golf course management services including operations, agronomy, food and beverage management, and sales and marketing.