The Grizzly turns the big 5-0 on July 1, 2022 and this summer we're celebrating this golden anniversary with a summer-long celebration showcasing all of the amenities The Grizzly Golf and Social Lodge has to offer. From golf tournaments and social events, to special promotions and merchandise releases – we aim to have something for everyone to enjoy.
The Grizzly X Sonder Collab
There's no better way to celebrate 50 years than with a uniquely crafted beverage perfect for sipping on a hot summer's day! Sonder Brewing created The Grizzly Brewin so our guests could say "Cheers to 50 years!"
Grab yours while supplies last!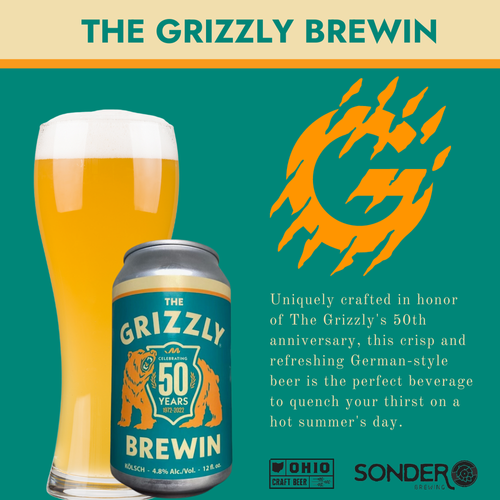 50th Anniversary Week Celebration: June 26th – July 3rd
June 29 – 30, 2022
GCGA Grizzly 50th Anniversary Celebration Championship – Junior Tournament
June 30 – July 2, 2022
The Great 18 Live – weekend anniversary celebration features great live bands on the patio
Thursday, 6:30 – 9:30 pm – The Step Brothers
Friday, 6:30 – 9:30 pm – Stagger Lee
Saturday, 3 – 6 pm Brett Brock & Dan Kaufman, 7 – 10 pm Big Trouble Blues Band
July 2, 2022
The Grizzly 50th Anniversary Mason Golf Classic – Benefiting the Mason Food Pantry
1st Annual Mason Classic – an individual stroke play tournament. All golfers are welcome, USGA handicap required.
July 3, 2022
The Grizzly goes to Red, Rhythm, and Boom! Join us at the City of Mason's 4th of July celebration, our pop-up booth will feature a putt putt and chipping contest. And watch live, as our Head PGA pro Andy Horn announces the winners and awards from the first annual Mason Golf Classic and presents our donation to the Mason Food Pantry.
Golf Tournaments
Grizzly Members Sr. Men's Club Championship
June 25-26, 8:00 am – 12:00 pm both days
GCGA Senior Metropolitan Championship
July 13-14, 7:30 am – 8:00 pm
Grizzly Members Men's Club Championship
July 23 – 24, 8:00 am – 12:00 pm
ECC Preview High School Tournament
August 9, 7:30 am – 11:30 am
Grizzly Members Nicklaus Club Championship
August 27-28, 8:00 am – 12:00 pm
ECC Championship High School Tournament
September 20th, 8:30 – 12:30 pm
Ohio High School Girls D2 Sectional Tournament
September, 27th, 8:30 – 12:30 pm
Ohio High School Boys D1 Sectional Tournament
October 6th, 8:30 am – 12:30 pm
Grizzly Members Ryder Cup
October 22, 8:30 am – 4:30 pm
Demo Days
Ping Demo Day
Wednesday, May 25, 3 – 6 pm
Contact the Pro Shop to make an appointment, 513.398.7700
Callaway Demo Day
Saturday, June 4, 2 – 6 pm
Contact the Pro Shop to make an appointment, 513.398.7700
Titleist Demo Day
Saturday, June 11, 10 am – 2 pm
Contact the Pro Shop to make an appointment, 513.398.7700
Great 18 Live! Summer Music Series
MAY: All bands play from 6:30 – 9:30 pm
Friday, May 13th – Low Country Boil
Saturday, May 14th – Thing 1, Thing 2
Friday, May 20th – Fishhead
Saturday, May 21 – Time Blakeney & Missing Pieces
Friday, May 27th – Patterson James Band
Saturday, May 28th – Beckett Ridge
JUNE: All bands play from 6:30 – 9:30 pm
Thursday, June 2nd  – Kaydee
Friday, June 3rd  – Jim Teepen
Saturday, June 4th  – Gina & The Gents
Thursday, June 9th  – Kevin Fox
Friday, June 10th  – DJ Bernie B
Saturday, June 11th  – Katie Pritchard
Thursday, June 16th  – Al Danis
Friday, June 17th – Lake Teepen
Saturday, June 18th Ashley Watts
Thursday, June 23rd – Jim Teepen
Friday, June 24th – Geena & The Gents
Thursday, June 30th – The Step Brothers
JULY: All bands play from 6:30 – 9:30 pm unless otherwise indicated
Friday, July 1st – Stagger Lee
Saturday, July 2nd – Brett Brock & Dan Kaufman from 3 – 6 pm, Big Trouble Blues Band from 7 – 10 pm
Thursday, July 7th – Jim Teepen
Friday, July 8th – Retroactive
Saturday, July 9th – Jim Teepen
Thursday, July 14th – Pat Riley
Friday, July 15th – Ashley Watts Trio
Saturday, July 16th – Al Danis
Thursday, July 21st – Jim Teepen
Friday, July 22nd – Beckett Ridge
Saturday, July 23rd – Fishhead
Thursday, July 28th – Kevin Fox
Friday, July 29th – Patterson James Band
Saturday, July 30th – Bob Michaels
AUGUST – All bands play from 6:30 – 9:30 pm
Thursday, August 4th – DJ Bernie B
Friday, August 5th – Lake Teepen
Saturday, August 6th – Jam
Thursday, August 11th – Ashley Watts
Friday, August 12th – Jim Teepen
Saturday, August 13th – Retroactive
Thursday, August 18th – Jim Teepen
Friday, August 19th – Gina & The Gents
Thursday, August 25th – Al Danis
Friday, August 26th – Low Country Boil
SEPTEMBER – All bands play from 6:30 – 9:30 pm
Thursday, September 1st – Pat Riley
Friday, September 2nd – Katie Pritchard
Friday, September 9th – Bob Michaels
Saturday, September 10th – Gina & The Gents
Friday, September 16th – H&H
Saturday, September 17th – Stagger Lee
Friday, September 23rd – James Patterson Band
Saturday, September 24th – Jim Teepen