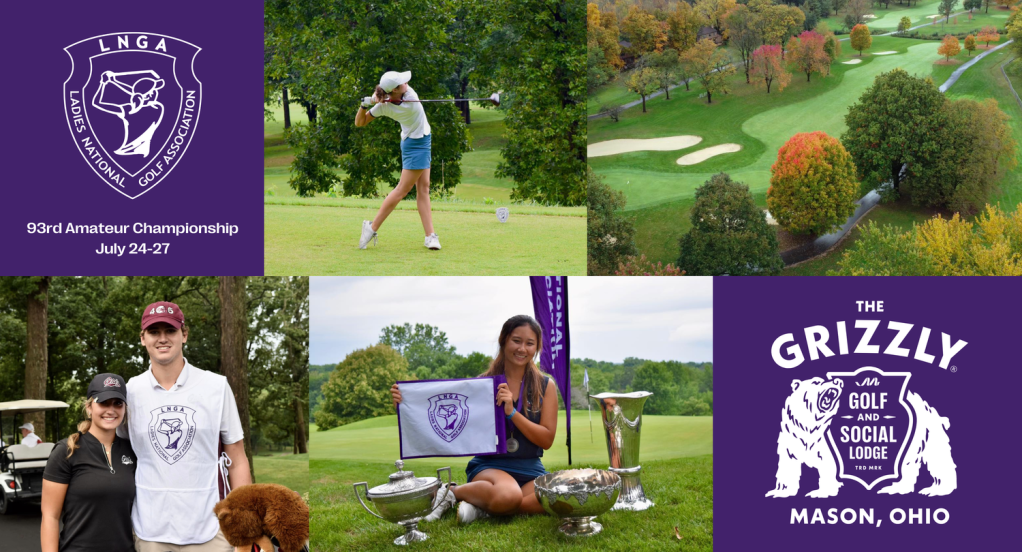 The 93rd LNGA Amateur Championship is an elite tournament, growing the game and promoting the next generation of female golfers.
The Grizzly Golf and Social Lodge is proud to host the 93rd LNGA Amateur Championship this summer! The Ladies National Golf Association ('"LNGA") is a national volunteer women's amateur golf association founded in 1927 to promote amateur golf and good sportsmanship. LNGA events are hosted at venues across the United States and past champions have gone on to be LPGA Hall of Fame Members, Major Winners, and Solheim and Curtis Cup Team Players and Captains. The LNGA Amateur qualifies for World Amateur Golf Ranking (WAGR) points.
Sponsorship opportunities are available, to find out more click here!
CHAMPIONSHIP DATES
July 24th – Official Practice Round
July 25th – Championship Day 1, Qualifying Round, Wave 1 7:30 am, Wave 2 @ 12:30 pm
July 26th – Championship Day 2, Qualifying Round, Wave 1 7:30 am, Wave 2 @ 12:30 pm
July 27th – Championship Day 3, Final Round, Wave 7:30 am
ELIGIBILITY
Entries are open to female amateur golfers with a handicap index of 5.5 or less under the World Handicap System. All applicants must conform to the USGA Rules of Amateur Status and meet the requirements of the USGA Gender Policy.
FORMAT
Three rounds (54 Holes) of Stroke Play will determine the Champion. The 144-player field will be cut to the top 60 and ties after 36 holes.
FACT SHEET
For a full list of details on the Application and Entries Processes, Policies, Rules, and Exemption Criteria, please visit the LNGA website.
ENTRY FEE
$300
ENTRY DEADLINE
All entries must be made online at the LNGA Website after creating a Player Profile. Entries must be received by 5:00 PM EST on Wednesday, June 28, 2023.
AWARDS
Amateur Champion: George III Champion Trophy
Amateur Runner-Up: Iva May McDonald Trophy
Junior Medalist: Dorothy Pease Trophy
Howell Team Trophy
AREA HOTELS
For out of town players, Special rates and discounts are available from July 23-28 at the following hotels. Players should mention the "LNGA Championship" when booking rooms.
HOST HOTEL: Drury Inn & Suites Cincinnati NE Mason
9956 Escort Drive, Mason, OH 45040
513.466.8573
Single – $135 & Double – $135 includes breakfast, evening meal, cocktails, and indoor pool
To make reservations within the group block, click here.
Reservations may also be made by calling 1-800-325-0720 and referring to the Group number 10070245.
Best Western Mason
9665 S Mason-Montgomery Road, Mason, OH 45040
513.336.7911
Single or Double $129 includes breakfast and indoor pool
Great Wolf Lodge
2501 Great Wold Drive, Mason, OH 45040
513.459.8885 ext 529
$239 plus $39.99 resort fee, indoor waterpark included
Golden Lamb Inn
27 S Broadway, Lebanon, OH 45036
513.932.5065
$159.95 Single, $174.95 Double
Hampton Inn and Suites Cincinnati-Mason
5232 Bardes Road, Mason, OH 45040
513.492.8585
Double $129 includes breakfast and indoor pool
Holiday Inn Express
5100 Natorp Blvd, Mason, OH 45040
513-387-6000
$119 Single, $129 Double includes breakfast and indoor pool
Homewood Suites
5325 Natorp Blvd, Mason, OH 45040
513-701-9300
$139 single, $149 Double includes breakfast and indoor pool
Kings Inn and Suites
9365 Waterstone Boulevard, Cincinnati, OH 45249
513.683.7797
$82 per night
ADDITIONAL HOTELS
Baymont Inn & Suites
2793 Water Park Drive, Mason, OH, 45040
513.770.1884
Bestway Inn Mason
5310 Bardes Road, Mason, OH, 45040
513.339.0042
Cincinnati Marriott Northeast
9664 Mason Montgomery Road, Mason, OH, 45040
513.459.9800
Comfort Suites Kings Island
5457 Kings Center Drive, Mason, OH, 45040
513.234.4321
Courtyard by Marriott
4753 Socialville Foster Road, Mason, OH, 45040
513.770.0071
Hampton Inn Cincinnati Kings Island
5323 Beach Boulevard, Mason, OH, 45040
513.459.8900
Hilton Garden Inn Cincinnati Mason
5200 Natorp Boulevard, Mason, OH, 45040
513.204.6000
Microtel Inn & Suites
5324 Beach Boulevard, Mason, OH, 45040
513.754.1500
Tru by Hilton Mason Kings Island
2720 Water Park Drive, Mason, OH, 45040
513.229.8909